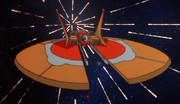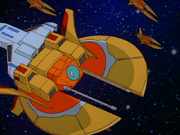 Dralthis led by Commander Krulan nar Ragitagha attacked two Confed Scimitars above a water planet. Both pilots and Krulan crashed on the planet.[1] A swarm of Dralthis attempted to follow a Confed scout ship which spied Kilrathi space through a pulsar hypernode, however they ended up into an ambush set up by Geoffrey Tolwyn[2] more than once.[3] Dralthis were also the complement of the captured ship TCS Morgan[4] and a Kilrathi Carrier around a ringed snow planet.[5]
Other uses
Edit
Captured Dralthis were used by the pirates of Daimon Karnes of Tortuga.[6]
Surplus Dralthis were given to the primitive Dioscurans who were trained by the Kilrathi as pilots. These Dralthis beared tribal markings and were modified to operate only with a special coded signal transmitted by the Kilrathi command, so that the natives would never turn against their "benefactors".[7]
Specifications
Edit
The Dralthi carries 2 missiles in racks above the cockpit and 3 in a centerline hardpoint, and 2 forward laser cannons.[8]
Notable pilots
Edit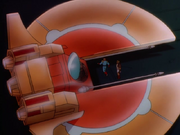 References
Edit
Ad blocker interference detected!
Wikia is a free-to-use site that makes money from advertising. We have a modified experience for viewers using ad blockers

Wikia is not accessible if you've made further modifications. Remove the custom ad blocker rule(s) and the page will load as expected.