Dralthi was a common type of fighter used by the Kilrathi Empire.
This type of Dralthi obviously succeeded the earlier KF-100 Dralthi during the Terran-Kilrathi War.
Once Dralthis attacked the Epsilon Prima system. Confed Tactical anticipated this but estimated that the new Dralthi ships wouldn't have enough range and because of this underestimation 5 Confed pilots were lost.[2]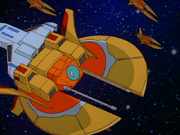 Dralthis led by Commander Krulan nar Ragitagha attacked two Confed Scimitars above a water planet. Both pilots and Krulan crashed on the planet.[3] A swarm of Dralthis attempted to follow a Confed scout ship which spied Kilrathi space through a pulsar hypernode, however they ended up into an ambush set up by Geoffrey Tolwyn[4] more than once.[5] Dralthis were also the complement of the captured ship TCS Morgan[6] and a Kilrathi Carrier around a ringed snow planet.[7]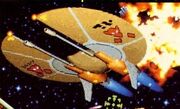 Dralthis were a common sight in the Vega Sector.[8]
Pilots of the TCS Tiger's Claw encountered Dralthis during in patrol or other engagements.[9][10][11][12][13][14][15][16]
Two wings of Dralthi attacked the
Claw
in
Gateway
system
[17]
and later an
Exeter-class
on its way to
Brimstone II
.
[18]
Dakhath nar Sihkag
led a wing against an
Exeter-class
on its way to the
Ymir
system but he was downed by pilots from the
Claw
.
[19]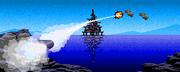 Dralthis also participated in a planetary attack in the surface of
Hurricane
.
[20]
An escort of Dralthis was engaged by pilots who attacked a
Dorkir-class
preparing the stage for an assault in
Kurasawa
.
[21]
A wing of Dralthis later attacked the
TCS Formidable
but was fended off by pilots from the
Claw
.
[22]
In another theater of the Vega Campaign, some Dralthis and the 2 Dorkir-class they escorted in the Hubble's Star system but were destroyed by pilots from TCS Eagle's Talon.[23] Similarly, Dralthis attempted to stop the pilots from rendez-vous with a Drayman-class tanker with fuel for the Talon.[24] They also participated to an assault against an Exeter-class in the Hell's Kitchen system[25] and then attempted to stop the Talons jump from that system to Venice.[26][27]
Dralthis were also seen escorting a Fralthi-class in Venice system[28] and were among the craft that guarded the Kilrathi Star Postof Vega Sector.[29]
Another attack against the Claw was made by Dralthis during its incursion to Kilrathi space.[30] During the Operation: Thor's Hammer the elite Reavers marines captured a Dralthi and piloted it back to the Claw and several wings of Dralthis attempted to stop their return.[31]
Around that time, Dralthi Mark II was developed.[32]
Other uses
Edit
Captured Dralthis were used by the pirates of Daimon Karnes of Tortuga.[33]
Surplus Dralthis were given to the primitive Dioscurans who were trained by the Kilrathi as pilots. These Dralthis beared tribal markings and were modified to operate only with a special coded signal transmitted by the Kilrathi command, so that the natives would never turn against their "benefactors".[34]
Specifications
Edit
Dralthis had a distinct circular shape that made Terran pilots refer to them as "flying pancakes"; thanks to the shape of the wings, the wing stabilizers spread around a wide area, giving them great stability even in high speeds.[35]
That early Dralthi had an infamous power overload problem once the shields get pounded a little too hard by the Terran Confederation fighters; 3 or 4 direct hits would overload the shield generator causing them to explode; this defect that made them so easy to kill, was corrected in the next model.[35]
The Dralthi carries 2 missiles in racks above the cockpit and 3 in a centerline hardpoint, and 2 forward laser cannons.[36]
Compared to the Confed Hornets, the Dralthis are almost as fast, with more armor in their fore and aft shields.[37] Their speed and range gives them an advantage over heavier but slower Confed fighters such as the F-44_Rapier_II.
Dralthis were somehow predictable in their movements. After an initial frontal offensive they performed a loop either up or down, then rush away and loop again for another run.[38][39][40]
1.4 missiles are required to destroy a Dralthi, or over 7 direct laser hits.[8]
Notable pilots
Edit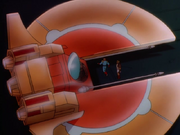 Background
Edit
The Academy Years gives the following AI mechanics
Dralthi AI
No Damage
Medium Damage
Almost Destroyed
Enemy Near
40% try to tail; 60% random offense
70% try to tail; 30% random offense
Run away at full afterburners
Enemy Slow
80% strafe attack; 20% get distance
50% strafe attack; 50% try to tail
Enemy Far
Intercept enemy fighter
Enemy Tailing
50% tight loop; 50% random defense
50% toll over; 50% random defense
Head-to-Head
70% random offense; 30% random defense
60% random defense; 40% rand. offense
Missile Coming
Random defense
Laser Hit
50% corkscrew; 50% random defense
Random defense
On Enemy Tail
random offense
Enemy Destroyed
veer away
References
Edit
Ad blocker interference detected!
Wikia is a free-to-use site that makes money from advertising. We have a modified experience for viewers using ad blockers

Wikia is not accessible if you've made further modifications. Remove the custom ad blocker rule(s) and the page will load as expected.