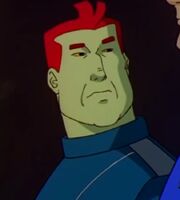 Major E. Gonsalas was a Terran Confederation officer and instructor in the TCSF Flight School at Sirius. He served as the CO of the 145th Training Wing in the flight school and was the instructor of pilots such as Christopher Blair and Todd Marshall.
Seeing the qualities displayed by both Blair and Marshall during a routine training flight when they surprised and destroyed a Kilrathi blockade-runner, Gonsalas was impressed. Because of that event, he recommended them together for their first combat tour. After the graduation of those two pilots, they were assigned to the TCS Tiger's Claw and Gonsalas sent a personal letter to its captain, Jason Sansky.[1][2]
Behind the scenes
Edit
This maybe the green skinned Academy Commandant from Wing Commander Academy.
References
Edit
References
Edit
↑ Chris McCubbin, Official Authorized Wing Commander Confederation Handbook, Final Evaluation, Lt. Christopher Blair
Ad blocker interference detected!
Wikia is a free-to-use site that makes money from advertising. We have a modified experience for viewers using ad blockers

Wikia is not accessible if you've made further modifications. Remove the custom ad blocker rule(s) and the page will load as expected.