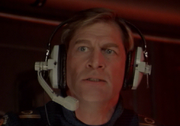 Raznick
"Boss" was the Flight Boss onboard the
CS Tiger Claw
. He threatened to take
Marshall
's wings, after the wing leader heard about it. He had been training on his off-duty to fly
CF-131 Broadswords
.
Behind the scenes
Edit
In the novel trilogy and the movie the Flight Boss and the Deckmaster/Deck Boss Peterson are two separate characters. In the novel Raznick is Peterson's superior.
In the Handbook Peterson appears to be the Deck Boss & Flight Boss and thus the superior to everyone else in the hangers. The rules by Peterson would imply that the Raznick's scenes in the movie have been reduced down to Flight Control Officer, and subordinate to G. Peterson. However in the movie the two never interact, and it's the Flight Boss/Raznick character who threatens to strip Maniac's wings over the intercom, not the Peterson character.
Ad blocker interference detected!
Wikia is a free-to-use site that makes money from advertising. We have a modified experience for viewers using ad blockers

Wikia is not accessible if you've made further modifications. Remove the custom ad blocker rule(s) and the page will load as expected.