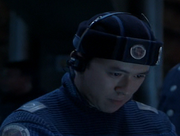 Rene Gemma
was the Comm Officer in the
NavCom A.I.
control room on
Pegasus Station
. He confirmed that the
TCS Iowa
and
TCS Kobi
had been destroyed. He keyed in the coded transmission for
Bill Wilson
to send a coded distress message.
Behind the scenes
Edit
In the Wing Commander film a single actor appears to play the part of both Benjamin Ferrago and Rene Gemma.
Ad blocker interference detected!
Wikia is a free-to-use site that makes money from advertising. We have a modified experience for viewers using ad blockers

Wikia is not accessible if you've made further modifications. Remove the custom ad blocker rule(s) and the page will load as expected.