See also: Snakeir-class Carrier
The Snakeir-class is a battleship serving the Empire of Kilrah, the largest known in the Kilrathi arsenal.
The Snakeir was first observed by the Terran Confederation in late 2649. It serves as a large carrier but also as an orbital missile platform against planetary targets. It often escorts Kilrathi transports to the front, and is usually accompanied by at least 3 destroyers or cruisers, guarded by an escort of 12 KF-402 Krants. They all bear the markings of the nar Kiranka house, suggesting that they are sponsored by the Kilrathi Emperor, but not other clans.[1]
During the Terran-Kilrathi War the Confederation met with 51 individual Snakeirs; 4 were destroyed in battle and 2 lost in other mishaps.[1]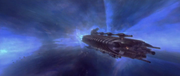 KIS Grist'Ar'Roc followed pilot Christopher Blair to the Charybdis and the Sol system until it was lured to the Scylla where it was destroyed.[2]
Specifications
Edit
The Snakeir is similar to the Sivar-class, and the largest known warship of the Kilrathi. It can launch high-orbital and interplanetary munitions (such as skipper missiles) against static targets. The Confed estimates that it has a complement of officers and crew between 400 and 600, accompanied by 500 warriors trained both as pilots and marines.[1]
It has a mass of 200,000 tons (with a total of 200,461 tons with cargo/ships on board).Wing Commander film
Known ships
Edit
External links
Edit
References
Edit
↑ 1.00 1.01 1.02 1.03 1.04 1.05 1.06 1.07 1.08 1.09 1.10 1.11 1.12 Chris McCubbin, Official Authorized Wing Commander Confederation Handbook, Joan's Ships of Known Space