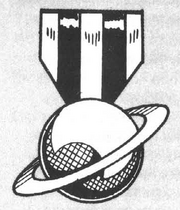 The Terran Confederation Medal of Honor aka "Pewter Planet" is the highest medal awarded by the Terran Confederation Navy to military personnel.[1]
Recipients of the Medal of Honor are Christopher Blair (and presumably Ian St. John) during the Vega Campaign for destroying the Kilrathi Star Base of the Vega Sector.[2] Blair was again awarded for fighting a Snakeir-class.[3]
In the original
Wing Commander I
, the Pewter Planet is infamous for being the only medal the player can't see on his suit, nor can save it, as the game ends.
References
Edit
↑ Claw Marks (Wing Commander I box package), On the Flight Deck
↑ Wing Commander I, Venice series (Mission 4), for 243 pts
↑ Wing Commander I, Charon series (Mission 1), for ? pts
Ad blocker interference detected!
Wikia is a free-to-use site that makes money from advertising. We have a modified experience for viewers using ad blockers

Wikia is not accessible if you've made further modifications. Remove the custom ad blocker rule(s) and the page will load as expected.