Hi, welcome to Wing Commander Information Center! Thanks for your edit to the Sun Wan Lu page. If you need help, read through our help pages or contact a local admin. If there are no active admins here, stop by Community Central and check out our forums.
Looking for live help? Then join us for an upcoming webinar to chat with staff and other Wikia editors. You can also check our Staff blog to keep up-to-date with the latest news and events around Wikia. Lastly, check out the Wikia Video Library, where you can find premium licensed videos to add to the wiki.
All of these links are a great way to start exploring Wikia.
Happy editing, Sarah Manley
(help forum | blog)
Tri-System
Edit
I'm not going to begin to guess when historically it was founded, in comparison to the Terran Confederations's history... It definitely seems to have references to modern earth history & popculture (a guy with a callsign Tex, and some distinctively modern English names). Naming conventions for planets seem to lean towards Greeks and Romans though. The Tri-System is older than the Terran Confederation though, the first planet colonized Anhur is much older (between 2-3 thousand years old) than any other Terran colonized planet which is odd... Most of its technology has been developed in system and parallel to the Terran Confederation (both Confederations independently developed Terraforming, for example), but they seem to lack long distance jump drives, and are isolated in there system. A basic Talon ship is exciting technology to them (is it because of its jump drive, or does it have better armor or shield classes than their technology allows?). Tri-System does appear to be parallel to Terran's as the Terran Confederation is aware of their systems but has no known jump points into the system (according to Prophecy galaxy chart) so it is just as much isolated to both Confederations (beyond the lone Talon pilot that found a way there). Is time travel involved? In which case first humans reached the system backwards in time placing it parallel to the Confederation? Was it seeded by aliens way in the past, who formed Anhur, but later colonists on showships (as no known Terran confederation technology ever reached them, thus explaining some of the more modern references being incorporated into the society) reached there from other parts of the galaxy?Baggins (talk) 12:03, September 1, 2013 (UTC)
On another note having a more firm dated and implied dates references as per Star*Soldier, linking Tri-System into Terran timeline, it would be possible to roughly convert important dates from the Tri-System timeline into Terran reckoning. If privateer occurred c. 2670, and before 2701. then that means 2790 is more or less equivalent to same year 2670, give or take.
Movie timeline vs. main series timeline
Edit
I'm curious where the movie deviates from the main timeline? Other than Bossman's reported death, and possibly Blair's backstory? Some of the CIC fans 'swear' that the novels themselves (in particular the unpublished but released Pilgrim's Truth) tie it directly into the main canon, and even tries to fix, and answers a few details from the main series and the movies as well. I know the movie novelizations definitely toss in a lot of name drops from both previous novels and the games.
Also I've heard that there are some deviations between the game novels and the games themselves as far as certain dates, and characters or names?Baggins (talk) 23:05, September 2, 2013 (UTC)
The movie itself doesn't have much of a background, but the tie-in TCH is a source of much information, which however deviates from established canon, mainly in dates, like pushing the Kilrathi War later to make room for the Pilgrim War. You can consider them belonging to the same universe, or to different parallel universes, or partially shared universe; but whatever the case, the dates can't fit together in the same timeline.
I also have the impression that the movie was something like a reimagined WC universe, or reboot (although the concept was not common in 1999). I have read somewhere that the tie-in books refer to themselves as expanding on the "movie universe". It's expectable that they might include references to established canon, but until I read them, I can't form an opinion.
The middle way to resolve this, is to treat WC as a shared universe. That's why I haven't created pages like Christopher Blair (games) and Christopher Blair (movie) and Christopher Blair (Academy). That's also why some "general truth" articles (like pulsar or jump point) make references to the Handbook, the movie, the Academy series etc in one article, and let the reader understand them the way he prefers it in his mind.
But anyway, at this point I am far from being a WC expert, so I will be forming an opinion along the way as I explore more and more the WC universe and encounter the inconsistencies. MoffRebusMy Talk 09:43, September 3, 2013 (UTC)
I have only read the first two movie novels, and it has been ages. I plan to go through them again now that the Pilgrim Truth has been released, but I have so much on my plate, including the fact I'm working through the Silmarillion right now.
From what I remember the Pilgrim War and the Kilrathi war were actually occurring simultaneously according to the backstory given in the novels, in completely different sectors of space. Largely no crossover. Kinda like how Privateer took off in a different sector of space as well, and Kilrathi were only a minor involvement, but Church of Man and Pirates took center stage as the particular threat. The biggest issues I remember from the movie were the design of the Rapiers, and TIger's Claw deviating from the movie (Super Wing Commander did as well, but we can ignore that for the most part), Bossman's death occurring before WC1 begins, etc. I recall the Movie Novelization or the Movie Guide touched on Rapier issue, explaining it was an earlier or custom model, and phased out in later years. Bossman issue was never satisfactory explained but the guide, IIRC, kinda hinted that there was a huge cover-up on that front, and Bossman may have been undercover agent (thus implying that his death may have been 'faked'). Several interviews from Chris Roberts IIRC explains the hairless Kilrathi was more of a budget issue, to save money on the props.
That being said I do like the idea of 'splitting' the timelines into individual articles concerning specific media interpretations. It makes it easier to follow. Although, at some point it might be cool to have a separate article, that bring together a more 'complete' timeline of all the sources, such as the ones done at the CIC (other than the fact that they appear to be completely wrong with the placement of Privateer 2 by trying to jam it into the Terran timeline despite the fact there is no direct connection).
Also I agree 'shared universe' is the best way to go. The games were not always consistent on facts between each of them either. Like I said the game novels have some deviations despite generally being considered 'canon'. Major deviations are that the novels didn't always take the 'optimum' path, sometimes taking the worst case scenarios and then switching back to the winning paths. Sometimes it was character age discrepencies or background story discrepencies, and few alternate dates IIRC> I've only read 2-3 of the game novels though, and haven't been able to personally compare them to the games. I've only read some FAQS that listed the differences. It has been years since I played the games so a lot of my memories have faded, and its not as easy to just pull the game scripts (although some are up on the interwebs)Baggins (talk) 11:05, September 3, 2013 (UTC)
On a side note I think Chris Roberts doesn't consider Prophecy to be part of his universe, as he didn't have any involvement with it (IIRC in one of his interviews). If he was allowed to make a new game its unclear if he choose to incorporate it somehow being that many fans do like like the game, or if he would completely ignore it. Ron Gilbert for example had the same situation with Money Island, but he chose to work around the non Gilbert without ignoring them when he advised the Telltale team (albeit I understand his involvement in that series wasn't a lot either).Baggins (talk) 11:10, September 3, 2013 (UTC)
Turns out that Star*Soldier the manual for Wing Commander Arena merges all kinds of details from the Movie, Games, Novels, and Handbook, etc. Pilgrims, Tri-System, even tries to explain the movie rapiers vs, what is seen the games. You might want to check out the timeline include in it. http://www.wcnews.com/wcpedia/Star*SoldierBaggins (talk) 11:11, September 6, 2013 (UTC)

I am already using S*S timeline as a source, at least until the point I have reached so far. Do you think it addresses the Tri-System discrepancy satisfactorily to you? As I said I can't have an oppinion on Privateer. MoffRebusMy Talk 12:41, September 6, 2013 (UTC)

I think it took the same route that I figured out... That Privateer 2 must be around 2969-70 the same time as Privateer I, hence the appearance of the Talon fighter. As that mission in Privateer II was first contact between the two Confederations, it must mean that trade must have started after that betwe 2670 and 2701. It doesn't fix all the 'anachronisms' but then again Privateer 2 is somewhat satirical in most of hits material. As in snarky british humor, and camp. Think Dr. Who. There might even be a dr. who reference, when I was going through the datalogs.Baggins (talk) 12:57, September 6, 2013 (UTC)
Jason Sansky
Edit
Does that name get mentioned on a prop? Desk name plate or name tag? It's not mentioned in the script, and I don't feel like watching the movie again. Jay definitely can be short for 'Jason' of course.Baggins (talk) 14:06, September 6, 2013 (UTC)
I don't remember, but "Jason Sansky" is definitely in the credits. MoffRebusMy Talk 14:18, September 6, 2013 (UTC)
Game timeline
Edit
I think that that timeline should be edited to include primarily only game and manuals only. This will leave the novel timeline for novel specific dates being discussed primarily in the novel timeline, for easier comparisons. The game timeline will include information from the various manual timelines though, and any references to the novels should be simplified as they are in those timelines, and not 'specific'. The gametimeline can use specifics from the games where known, and even point out 'alternate' scenes or different orders of events that occur in the game, vs a game novelization.Baggins (talk) 16:16, September 7, 2013 (UTC)
G. Peterson=
Edit
Hmm, you didn't realize that G. Peterson and Peterson are not the same person?
Different actor! Different scene. Different job positions.
The Deck Boss in the novel is Raznick, and his scenes are pretty common in the film, every time people flying in or leaving.
Peterson was a 'deckmaster' and was subordinate of Raznick. I think his job as to clean up things, and make sure everything is running efficiently while Raznick issues orders and makes sure ships come back or leave efficiently.
The Handbook shows a completely different person as G. Peterson.Baggins (talk) 16:48, September 7, 2013 (UTC)
Hm I think the Handbook has messed it up.
Raznick in the credits is "Flight Boss" played by the late actor Simon MacCorkindale
Peterson in the credits is played by Kieron Phipps. In the Handbook it's "MCPO G. Peterson, Deck Boss"
Do you suggest that Peterson of the movie and G. Peterson of the Handbook are different persons? Do you suggest that G. Peterson is actually Raznick? MoffRebusMy Talk 17:24, September 7, 2013 (UTC)
How is G. Peterson credited in the movie? Which actor portrays him? MoffRebusMy Talk 17:26, September 7, 2013 (UTC)
G. Peterson seems to share a role closer to that of the Raznick character, as in the one issuing orders and is the "Boss" of the deck. He has many scenes in the novel. As Peterson states in his Flight Rules, he is the "Boss". In the novel Raznick basically says this. Where as Deckmaster Peterson in the novel and his few appearances in the movie he's a subordinate to Raznick, fairly inconspicuous person. He's always being ordered around by Raznick.
As for the picture they chose for "G. Peterson", it looks more like a guy in a pilot uniform? Do you know whertaht image appears in the film? We could replace it with a color version.
Ya, I'd agree the Handbook messed up. There are quite a few issues I have with the Handbook! Lots of spelling errors too, and dating errors... Seriously Wilson being born in late 2400s?Baggins (talk) 17:31, September 7, 2013 (UTC)

I haven't read the novel. Does it mention two Petersons? Where is the image from? Is it from the novel?
Do you own the original handbook, or do you read it from the WCpedia? MoffRebusMy Talk 17:41, September 7, 2013 (UTC)

Only one peterson in the novel, and he is a subordinate to the "Boss", "Flight Boss", "Deck Boss" Raznick.
The image for G. Peterson is shown twice in the Handbook in black and white.
I own the original handbook, I found an on line scan too, Pix's Origin Adventures website.
As for character and names, and images, I've been using the novel as a template, to find who appears in a scene portrayed both in the novel and the movie, and then grabbing the scene with that event. Seems reasonably legit. Might even able to fill an image in for Jones that way. Only issue being that in some cases the a single actor does the scene of two different characters, so I note that in the behind the scenes.Baggins (talk) 17:44, September 7, 2013 (UTC)

Right, I would do something like that myself once I come to reading the novelization. Notice that if you need, you can make use of in-line BtS info with the Template:Bfinfo template (taken from Memory Alpha). MoffRebusMy Talk 18:27, September 7, 2013 (UTC)
Well, once I got through searching through Pilgrim Stars, I think its confirmed that Peterson and G. Peterson are the same character (despite the poor use of wrong screenshot in the Handbook). Peterson is definitely refered to as the Deck Boss, just not the Flight Boss. Raznick is definitely his superior, and is the Flight Boss. The issue with the Handbook is it kinda combines Raznick and Peterson into one character who is both the Deck Boss, and the Flight Boss as per rule 1 of his list of rules, and the other character is implied to be the Flight Controller, and a subordinate to him. By his rules a Flight Boss could overrule anyone else pretty much. But in the handbook, he suggests he is the Flight Boss, so he can over rule everyone else. In the novel Raznick is the one who can order him around, because he is the flight boss. In the movie as the credits establish Flight Boss and Peterson are two separate characters, but they never directly interact. Peterson's part is rather limited.
So ya, basically you can merge the two articles.Baggins (talk) 00:01, September 10, 2013 (UTC)
Btw, is there a blueray of Wing Commander, and if so, would it allow a better job of making out finer details like the nametags, and numbers on the ships?Baggins (talk) 17:35, September 7, 2013 (UTC)
There is a blueray version, but I don't own a blueray device so I don't plan to purchase the movie in the foreseeable future. :) MoffRebusMy Talk 17:41, September 7, 2013 (UTC)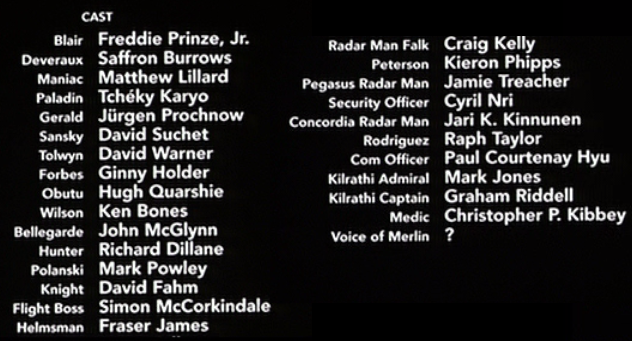 Here is the cast list as it appears in the film. So we can compare information. I notice Sansky is not listed as "Jason", and Knight is only Knight. In the film neither character are specifically named ("Sansky" is referred to in person in one mention, and Knight is only mentioned as Knight, and of course Knight and Sansky on the name tags). BTW, that offers another issue! Knight's nametag should be listing his last name, as is norm on all the other nametags, and his helmet should list callsign as the helmets do for other characters. So beyond the blatant continuity error, it actually implies his name is Knight, Callsign Knight! He is even referred to as "Mr. Knight" which sorta supports this. Hence explaining why there is a discrepancy between sources perhaps. The only source to have Jason listed that I could find was the "special features "cast" on the DVD. As for "Kahumelo" I'd still say that's definitely another misspelling in the Handbook, along with other editing issues in the book!Baggins (talk) 19:00, September 7, 2013 (UTC)
"Jason Sansky" is credited as such in the imdb.
In the movie "Mr. Hunter" is supposed to be a person with the surname "Hunter", a nod/reference to the Hunter of the WCI, not necessarily his counterpart. It's the Handbook and the credits which tie Mr. Hunter to Ian St. John of the game. I don't have a solution to this. MoffRebusMy Talk 20:17, September 7, 2013 (UTC)
IMDB is User submitted not official. The only source of Jason Sansky appears to be the special features credits of the DVD, and maybe possibly the Wing Commander Movie supplement magazine (I don't know if I still have access to that to know for sure). We should check the draft scripts to see if they offered some explanation to some of these alternate names? Hunter, and Ian St. John also confirmed in the novel.
I never checked Hunter's scenes enough to see if it appears both as 'hunter' on his tag, and on his callsign. But you are probably right. He is only mentioned in one scene directly "This is Lieutenant Hunter of the T.C.S. Tiger Claw."
ANother thing to check is also subtitles, although they aren't necessarily 'official' and just typed out by someone from third-party hearing corporation either off the script or by their own hearing, but I swear I saw Knight get called Khumalo in a scene (but I'd have to check to confirm that)! Baggins (talk) 20:31, September 7, 2013 (UTC)
Contacting LOAF
Edit
It might be useful to contact LOAF on the source of where Blair's uncle was killed in a farming accident, as well as the Jennifer leaving Nephele to remarry, and leaving BLair with his grandparents. He is one of the most informed of Wing Commander fans, and even has a huge personal collection of development and presskit materials,and his interviews with many of the Wing Commander developers etc. So it maybe something he's pulling from an obscure source. But at the same time its possible that he's misremembering details that relate to somebody completely different.
I'd try to contact him to ask, but I don't recall my screename at the CIC, and haven't posted there in years. You wouldn't happen to have a membership?78.149.2.118 12:25, September 10, 2013 (UTC)
No, although I have been considering signing up for a membership. I think it is legit to sign up with a new name to contact LOAF. I wanted to ask you, how come you didnt sign up for the WCPedia which is more complete and has a larger and more supported community?
I wasn't aware of LOAF's position on Blair's father. I think it can now be safe to adopt the position that his parents mentioned the Academy are his foster parents, that Arnold is 100% dead and Samuel is a member of the StarPeace.
And I would like to suggest another thing: I think that it doesn't look nice to put very long essay-like BtS sections. In StarPeace I wouldn't reproduce the whole quote by LOAF. Just put the summary and a link to the reference. Also, some words and statement seem to be repeated in more than one paragraphs, while they could be compressed into one. I don't know if you are a native English speaker and what is you level of English (mine is far from perfect for sure), but if you agree, I could try to minimize those paragraphs and make it more readable to a reader/visitor. I just don't want to make it seem like I am butchering your contributions. MoffRebusMy Talk 13:18, September 10, 2013 (UTC)
Sure, you can edit how you think it would be best. Links to offsite is well enough. I have tried to apply to the WC Encyclopedia website but haven't been contacted yet. I'm a native English speaker, but I may tend to get 'wordy' as I'm always in 'research' and writing mode, and like detail over brevity. But I understand if you want to reduce things down.Baggins (talk) 13:23, September 10, 2013 (UTC)
Also might I suggest we don't mix material from the Acad Bib, or any other development Bib into the main character articles? Other than in behind the scenes sections? Because a lot of the material may not yet be 'official', or may be retconned by released sources. It only makes things even more confusion. In the same way I wouldn't try to incorporate dates and characters introduced in an early draft of the movie, and would only go with the filmed version. We should only use what is said on screen, or appears in a published works. So if for example "StarPeace" was not mentioned in any episode, then it probably shouldn't be part of Blair's early years bio section?As well as those specific references to civil war ancestor, unless that was also brought up in an episode?Baggins (talk) 13:34, September 10, 2013 (UTC)
On a side note some of these details get brought in by later sources, but not necessarily in the same direction that they would have originally taken. Set in a different point in the timeline for example (Academy got pushed back from 2655 to 2653 and during 2654 which kinda actually causes some overlap issues with WC1, and some of the other Academy related material, but incorporates the Handbook reference to Red and Blue I guess, which the novel also referenced). There are a couple of references in the Star*Soldier timeline for example that add the events of Privateer 3/Privateer Online, Pilgrim Truth, Privateer Animated TV Series, etc, but at the time Arena came out had never been published. Of those only Pilgrim Truth finally saw the light of day. But we can now be assured that they are now a part of the released canon! Even if we never get to see the whole story :PBaggins (talk) 13:38, September 10, 2013 (UTC)
Death and later appearaces=
Edit
I added this note to a couple of articles (its at least something that makes me go 'hmm' as its basically the Wing Commanders equivalent to a comic book death, and a wayout to bring back any number of fan favorites... Add to the fact that if Dead Dimensions exist, memories may be more than just memories but actually physical manifestations that could be 'brought back' into the physical realm, one wonders if the most powerful of Pilgrims would be able to actually 'raise the dead' or create dopplegangers from others);
Pilgrim Truth establishes that extrakinetics such as Pilgrims or others mutant humans may be able to develop the ability to project themselves in more place than once, not create clones per se but create doubles, multiples of dopplegangers each physically existing and each part of the whole. This is used to explain how one pilot Mango is able to attack Christopher Blair's fighter, and is shot down. Some believe he had died, but Blair believes he has seen him elsewhere. Blair suggests extrakinetics as an explanation of him being in more than one place at once as well as appearing to die, but not actually dieing, and coming back later. He points this out as a theory, but has no way of knowing if it really would happen. This ability may be both natural instinct or even controllable. Also adding the ability to project these individual beings into other places (sort of like teleportation) This appears to be a nod to the fans speculations about dead or disappearing characters coming back; to offer an explanation to a number of characters with similar discrepancies such as Knight, Kien Chen, Shamus and Delli Taggart, etc (it could even apply to Blair's "disappearance" during the Nephilim War allowing the possibility for his return, as he shows the ability to pull it off in the book).
On the side note the Loaf, Mango, and K subplot in particular Mango's is rather strange, and I wonder if all three callsigns are nods to various fans?Baggins (talk) 17:45, September 10, 2013 (UTC)
Academy series
Edit
What is your opinion on Academy being set originally at 2655 after WC1, vs set more or less during the Vega Campaign during WC1 in 2654 as per the Star*Soldier timeline? I notice you place all the academy stuff in 2653 period in the articles? In the Wing Commander Academy game, and Ultimate Guide references. Should we reedit the articles to fit it into the Arena order of events?Baggins (talk) 20:24, September 16, 2013 (UTC).
Hard to decide, and I am not sure I can answer yet. I placed it before the Vega campaign as there is no direct connection to WC1, for example I decided that Tolwyn was the captain of the TC before that Halcyon or Thorn guys. Also I decided to put each continuity/work into a separate section, even if they overlap chronologically, as each media didn't have other media in mind. The few recons done to remedy these create more problems than they solve. The worst example is Tolwyn's biography, I am reading Action Stations and is totally irreconsileable with Tolwyn's background in the handbook. So I suggest to keep each section separate. At least for now. As I get more acquainted with the WC universe I might think about another solution to treat this. MoffRebusMy Talk 21:04, September 16, 2013 (UTC)
Pilgrim's Trilogy and the Vega campaign
Edit
So I never noticed this before... THe author Peter Telep, divided up the action so that Pilgrim events in Pilgrim Stars occur in between the WC1 mission tree of the Vega Campaign. There is only like one possibly overlapping date, but the rest avoid being set on the same day! So if a mission tree takes place over a 3 day period. There is a 3 day period for it to fit into between chapters Pilgrim Stars. Seriously, it still makes thing convoluted in some ways, such that Tiger's Claw literally has to jump out of the system, and come back and there is no references to them being elsewhere (this would be tough to make direct references being there are multiple paths through WC1). But ultimately its very cool, and absolutely nerdy in the fact that he left those spaces for those alternate mission routes to exist! Pilgrim Stars overlaps the Vega Campaign from the Enyo missions up to the Dakota/Por Hedland series. The rest of the missions are set Kurasaw/Rostov/Hubbles to Venice/Hell's Kitchen take place many months later, and there is a big chunk of space inbetween for PIlgrim's Truth to fit into, and it only really uses 2-3 months of it. So again, Peter Telep was obviously a huge fan, who wanted to leave room for the games to fit!Baggins (talk) 21:17, September 10, 2013 (UTC)
Yes, quite impressive actually the Pilgrim trilogy avoids overlapping WC1 Vega Campaign missions under any possible configuration of win/lose scenario.
However I discovered that the first mission of the winning path "McAuliffe" series, and The Last One Left take place on the same day :p in two different systems (in the Arena timeline) which would make it near impossible.... This is actually kinda unfortunate as there are plenty of other dates the could have moved it to, that would have no overlap.Baggins (talk) 22:49, September 10, 2013 (UTC)
WIng Commander 1 ingame dates
Edit
GOing to have to check those those ingame dates and see if they are the same as later timelines place them... Watching let's play it doesn't seem so. ANd it looks like people have altered them and corrected them to fit with later retconned timelines in other games. If so, we might need to create WC1 specific timeline for list of ingame dates. Watching one video it seemed Secret Missions took place concurrently with WC1, rather than after, with the first mission starting in 2554.110. Same date that I think first level begins in the regular game. Perhaps a glitch?78.149.2.118
Yes I also noticed it and I think it's a glitch/oversight. I think that the game Guide of WC I and II (the LaFong one) might have dates? MoffRebusMy Talk 01:38, September 11, 2013 (UTC)
It has background dates here or there, but not sure on missions themselves. Will have to check. In addition the way that WC1 is designed, you might get a different set of dates if you 'continue' and import a previous character into a new game in expansion? So for example going into SM1 from base campaign might caculate a date based on where you left off? I don't have time to go play through the games though, unfortunately. I do want to beat the game though at some point. It's one of the few WC games I never finished.78.149.2.118 01:50, September 11, 2013 (UTC)
Once I tried to import an old savegame to SM1, the date and pilot's rank were reset. I don't know if I used a savegame near the beginning of WC1. However when I started the SM2 (which is a standalone program, not an expansion) these were also reset.
Concerning the pace of time during the WC1, I endorse the possibility that it is random. Eg. the initial constant is .110, but then each mission adds a random number between 1-4 to the variable of the current date in order to give the impression of progress; it's more logical than assuming that the game had an internal "calendar" for the missions. MoffRebusMy Talk 10:13, September 11, 2013 (UTC)
Ya, I think you may be right about the random, that's my theory as well. I think I might test it out and fly a mission a couple of times and see how it reacts, if I get the chance. However, one thing we can be sure about is that SM1 according to the box which has a Tolwyn Letter (first appearance of Tolwyn in the series I think)sets the Goddard campaign in 2654, no specific dates. In anycase what this means is that we can only place the 2654.10 date into the game, and shared timeline with any accuracy, I removed all the dates I had inserted for missions earlier, as I had taken that from an online timeline (LOAF based timeline) before I noticed that the game gives different dates that his timeline gives. Peter Telep's chapter dates seem to be strongly influenced by LOAF's timeline, and I think that's also why he got a Camoe in Pilgrim Truth (I wonder if that cameo existed in the draft back when Pilgrim Truth was originally written, or something that he incorporated when EA/Mythic, etc finally gave the go ahead for CIC to release the story?).
Btw, concerning the crazy overlaps, Tolwyn is already a vice-admiral in 2654 (according to his appearance in material related to SM1), he is an Admiral in the movie material. He's what only a Commodore in the animated series? Arena calls him a "commodore' during that period. That whole jumping around between serving on the Concordia, and Tiger's Claw. Animated series was originally set in 2655 and he wasn't an 'admiral'(for that series to be set in 2655 it obviously had to have originally been an alternate universe, with so much of the way it overwrote so many backstory details of the 'academy' storyline in game universe manuals, and such though it pulled details from earlier accounts like the 'Hilthros' reference). Even with the retcons to move the first episode to the 2653 academy days and rest into 2654 academy days causes alot of issues with the regular games backstories, and such, and with Maniac and Blair supposedly in their 'first year' (Plebe year) of the Academy during the series (when they were already 2653/54 3rd/4th year graduates). The novels didn't help either ;), adding the Captain Thorn character into the mix for captain of the Claw (Tolwyn is a vice-admiral in Freedom Flight which is around the start of the Firekka Campaign, as stated on the box of SM1). I still argue this series has never been completely consistent! Baggins (talk)
Here is another interesting group of 'dates' in the Armada manual it states that Kilrathi have apparently only had interstellar flight knowledge in the last century (assuming an approximation a century before 2669? or a century before 2600s?) It's not clear, but it says their empire has following the access to the ability for intersteller flight they quickly began conquering hundreds of planets until they ran into the terrans in 2629/2634 for the first time (it gives two dates for first contact LOL).
"However when I started the SM2 (which is a standalone program, not an expansion) these were also reset."
A couple of things I didn't respond to before. As far as I know SM2 is technically not 'stand-alone' it requires that you have a copy of the Wing Commander, it just loads up in its own screen. The back of the box says 'not stand-alone requires a copy of Wing Commander to play". So it is still an expansion. It's more like Rightous Fire in that respect.
Also far as your character 'reseting' I think that's a bug. I'm pretty sure that at least rank, name and kill count are supposed to transfer over.69.31.103.23 16:41, September 11, 2013 (UTC)
SM2 is a game expansion, but it boots up from its own exe, not from the original wc.exe. Perhaps I should say "independent". Anyway, it started without asking me to import or load anything from the previous games. MoffRebusMy Talk 17:08, September 11, 2013 (UTC)

I think you can import through the 'continue' option, but I don't remember the process. I think they allowed data transfer all the way into SO campaigns of WC2.137.222.114.247 17:51, September 11, 2013 (UTC)
So WCA manual states the Claw was destroyed in 2654... This appears to be the date that is also suggested in the Ultimate Guide, and it places WC2 about 2664. I wonder if original version of WC2 had a different date in the game? But it was updated in later versions?Baggins (talk) 22:07, September 11, 2013 (UTC)

Well, definitely can confirm you are right on the 'random' dates situation. The time itself may not be entirely 'random' It might choose a random time, and then that appears to calculate by the cpu clock, one minute is about one minute. So if it chooses 00.36, if five minutes pass it will be .41. You see this standard time calculation in the navigational screen. The Hour on the other hand appears to be as you said although it, it can actually be from 0-7, perhaps more? I've seen it jump from 1.110, to .117 between Enyo and McAullife. Another play it was .115.
There are some numbers that appear to be locked, the pinning of the medals at the end of enyo appears to always be at 17:00 (but the date itself can fluctuate, and I've seen it on .110 and .111 after a few 'new games'), the game always starts at 2654.110 at 6:00. Halcyon will always say they entered Enjoy 8:00 hours ago on the first briefing. After the first mission Shotglass will always say that that mission took place 'yesterday' (even if the internal clock doesn't update to .111). During the briefing for McAullife mission 2 halcyon will always say they are expecting ships within the next 48 hours. But actual calendar dates are definitely random.
Baggins (talk) 15:17, September 12, 2013 (UTC)
References tag
Edit
Ah, excellent. I always prefer using something like that. I may not be around that much - my knowledge and sources pertaining to the series are limited, so I'll probably restrict any editing to formatting issues more than anything else. - {{Subst:User:Cavalier One/signature}} 09:11, November 14, 2013 (UTC)